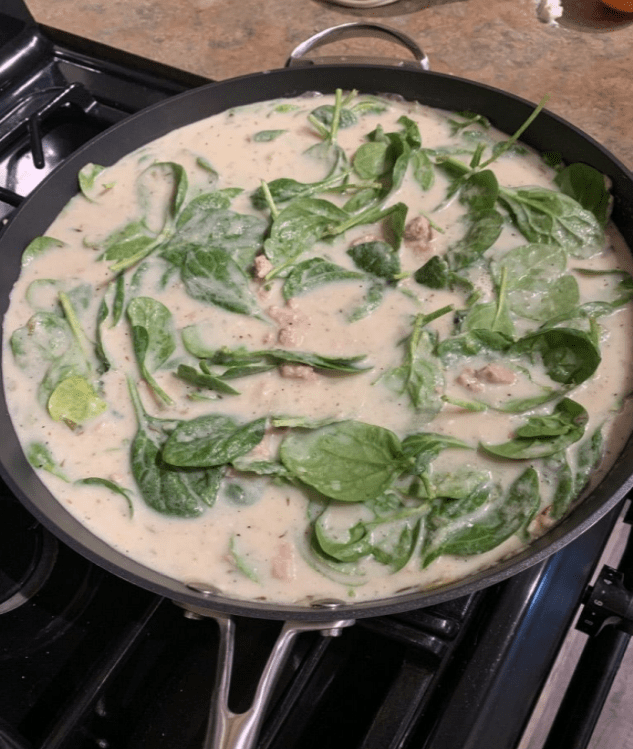 Creamy Leek, Fennel, & Greek Yogurt Soup with Ground Turkey Breast
A favorite soup at Solaris Whole Health!
Ingredients
6

tbsp

unsalted ghee

(if going dairy free replace with EVOO)

4

large fennel bulbs thinly sliced

6

each leeks thoroughly washed

6

each fresh garlic cloves finely chopped

8

springs rosemary

1.5

tbsp

dried thyme

1/2

teaspoon

ground nutmeg

2

cups

low fat greek yogurt If going dairy free replace with 1 cup nut milk

16

cups

turkey broth

2

lbs

ground turkey breast browned in separate skillet or electric fry pan

1/2

cup

Parmesan cheese freshly grated

salt and freshly ground black pepper to taste

2

tbsp

olive oil for sauteing

1

cup

Parmesan cheese freshly grated

to garnish

garlic powder to taste

5

cups

organic baby spinach folded in at the very end - 5 oz carton/bag
Instructions
Heat the butter in a large, deep (preferably non-stick) sauté pan, over a medium heat, add the sliced fennel, sliced leek and finely chopped garlic, and sauté, while stirring occasionally, for 10 minutes or until the fennel, leeks and garlic are beginning to soften. Cover.

In a separate pan, sauté ground turkey in left over EVOO forking into small crumbly pieces until supple and cooked, be careful not to overcook.

To leek saute, remove cover and add the stock, the rosemary sprigs, thyme and nutmeg and bring to the boil.

Simmer over a low heat for about 15-20 minutes. Remove the rosemary springs.

Allow the soup to cool slightly, then blend using an immersion blender.

Once all of the soup has been blended, stir the yogurt (or nut mil)k and the 1/4 cup of parmesan (or salt to taste) into the soup.

Add sautéed turkey.

Reheat the soup over a medium heat until it is hot, but do not allow it to come to the boil.

Season to taste with salt and freshly ground black pepper.
Notes
Prepare the leeks by thoroughly washing and have 2 thinly sliced, and 1 cut in half lengthways, and then cut into 4cm strips If going dairy free, add salt to taste in place of the parmesan cheese. Also, use 1 cup nut milk in place of the low fat greek yogurt.
Nutrition
Sodium:
2178
mg
Calcium:
441
mg
Vitamin C:
61
mg
Vitamin A:
3292
IU
Sugar:
5
g
Fiber:
6
g
Potassium:
1460
mg
Cholesterol:
111
mg
Calories:
491
kcal
Trans Fat:
1
g
Saturated Fat:
12
g
Fat:
25
g
Protein:
45
g
Carbohydrates:
25
g
Iron:
6
mg