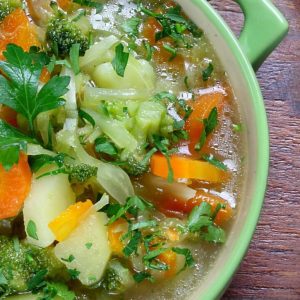 Fireside Turkey Fusion Soup
Solaris soup for the soul! This soup is ideal for chilly winter days and the perfect immunity booster during the cold months!
Ingredients
4

lbs

organic ground turkey

1

large pre-cut organic butternut squash

1

large carton broccoli/cauliflower/carrot mix

2

cartons riced cauliflower

1

large baby spinach

8

medium leeks finely chopped

1

large mixed mushrooms chopped

2

boxes turkey bone broth

2

boxes turkey broth low sodium

2

roots turmeric

2

tbsp

pumpkin seeds for topping
Instructions
In electric fry pan, sauté leeks

Add organic turkey and brown

When brown, take the turkey out of the pan and set it aside in a large bowl

Fry riced cauliflower (Take all the turkey juices out and use the same fry pan)

Sauté until browned and cooked

AT THE SAME TIME in a large soup pot, add turkey bone broth, vegetable mix, squash, and tumeric roots

Boil until soft, then puree.

Chop peppers and finely chop mushrooms.

Add low sodium turkey broth, organic turkey, riced cauliflower, mushrooms, and peppers to the soup pot that has ingredients from step 6

Bring to a boil then simmer on low for 45 minutes to marry the flavors

Turn off heat and fold in large bag of baby spinach

Cover for 10 minutes

Top with pumpkin seeds and serve!
Nutrition
Sodium:
35
mg
Calcium:
27
mg
Vitamin C:
8
mg
Vitamin A:
2881
IU
Sugar:
1
g
Fiber:
1
g
Potassium:
298
mg
Cholesterol:
31
mg
Calories:
92
kcal
Trans Fat:
1
g
Saturated Fat:
1
g
Fat:
2
g
Protein:
14
g
Carbohydrates:
6
g
Iron:
1
mg