3 Primary Ways the Immune System Fights Viruses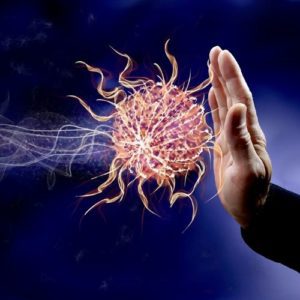 There are three primary ways in which the immune system responds to viruses: via antibodies, interferons, or cytotoxic cells. 
When a virus first enters your body, it invades your cells so that it can survive and multiply. Once a virus invades your cells, your immune system cannot "see" it and does not know that you are sick. 
Luckily, your cells have a workaround to overcome this. They use molecules called MHC class I to indicate pieces of proteins from within the cell on the surface of the cell. This helps indicate to T cells (immune cells) that there is a virus inside.   
Cytotoxic T cells are a type of immune cell that roams the body looking for infections. It kills cells that are infected with viruses to help prevent the virus from spreading.   
However, viruses are sneaky and can stop certain cells from indicating that there is a virus inside. NK cells are a type of immune cell that looks for cells that may have fewer MHC receptors than normal, which is an indication that a virus is preventing this information from coming through.   
Cells that are infected with a virus may also create and release proteins called interferons, which help prevent the virus from multiplying. They also send out signals to nearby cells that there is a virus present. This "signal" may help ensure that nearby cells increase the number of MHC class I molecules on their surface so that T cells can kill them.  
Finally, your immune system can kill a virus before it enters your cells by creating antibodies, which are proteins that bind to harmful molecules and destroys them. Here is how they work:  
Antibodies neutralize the virus so that it cannot enter your cells.

 

 

Antibodies work as a team to force viruses to stick together so that they

are

 

easier for your immune system to locate and kill.

 

 

Antibodies activate 

phagocytes, which engulf the virus and destroys

 it.

 



Disclaimer:
We are doing our part for our clients by keeping office surfaces clean using this product here. This bleach product is EPA registered and kills 53 microorganisms within two minutes for C. Difficile spores and a one-minute kill time for general bacteria, bacteria, and fungi, including the Norovirus, MRSA, TB, and VRE. This includes the fastest time available based on a March 2018 analysis.
Legal Disclaimer:
These statements have not been evaluated by the FDA. These products and information are not intended to diagnose, treat, cure, or prevent any disease. The information provided or any information contained on or in any product label or packaging is for informational purposes only and is not intended as a substitute for advice from your physician or other healthcare professional. you should not use the information on this site for diagnosis or treatment of any health problem or for prescription of any medication or other treatment. You should consult with a healthcare professional before starting any diet, exercise or supplementation program, before taking any medications, or if you have or suspect you might have a health problem.